E- Tech Solutions, based in Grimsby, specialises in providing high-quality, cost-effective IT support to small-to-medium businesses within Lincolnshire. 
They have just undergone major energy-saving changes to help reduce their energy consumption, investing in solar PV, LED lights and new and improved heating.
With their office based in an older building, their electricity usage was inefficient and wasting money that could easily be saved. So, E-Tech contacted the Business Lincolnshire Growth Hub to see if their Smart Energy programme could help them to become more energy efficient. They were awarded a grant of £13,241.86 towards the energy-saving project – 38% of the overall cost.
One of their fantastic investments, solar PV, will not only help to reduce energy consumption but with the technology utilising natural resources they will produce less CO2 - a big green tick for the environment! 
As part of the energy-saving project, a new boiler was also installed, replacing their previous boiler - which was over 30 years old! Through changing to a condensing boiler, they have improved their energy efficiency by up to 92%!
Rob Andrews, Service and Technical Manager at E-Tech Solutions, said: 
"The Smart Energy grant has allowed us to complete work that we would not otherwise have been able to achieve, which in turn has considerably reduced our energy cost. We have now decided to re-invest these savings by employing another apprentice!"
E-Tech solutions are one of the many businesses in the Greater Lincolnshire area benefiting from the Smart Energy Greater Lincolnshire programme. If you are looking to save money on your energy bills, click here to find out more.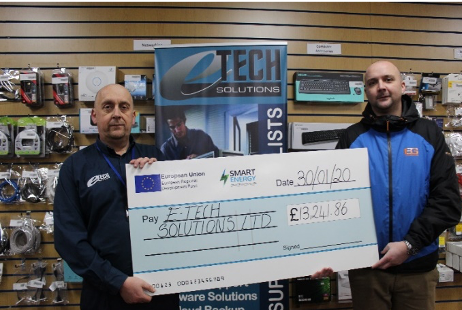 Back