Lincoln-based Christmas company Fizzco presents its new Brighter Times Tour!
This 'tour' is a road trip involving a large LED display arch, which will add a little sparkle as it travels around the UK in 2021.
Fizzco is a team of innovators and creators who design, construct and install bespoke Christmas and seasonal commercial displays. With over 35 years of retail visual display management experience, Fizzco knows first-hand the effects of the COVID-19 pandemic, and wants to give back to its customers and local communities.
The goal of the Brighter Times Tour is to show people brighter times are on the way. Fizzco is donating time and resources to shopping centres throughout the UK to help create a welcoming and fun environment for their customers. Each centre will be gifted its very own large, decorated LED centrepiece, which can be used as a photo opportunity or welcome back feature.
Fizzco aims to support local shopping centres to encourage communities to shop locally, celebrate the new year, and a new sense of optimism knowing brighter times are coming, giving shopping centre marketing teams a unique tool to help promote their centre. Ultimately this will provide each shopping centre with a free marketing tool to revive footfall and customer spending.
Wendy Clarkson, Company Director says: "From a retail perspective, we suspect an increase in consumer spending instore and the physical experience of going to your local shopping centre was something many people missed in 2020 and will appreciate more than ever this year. Hence, our decision to give back and support our customers. We want to help them create a welcoming and fun shopping experience."
The Three Metre arch will be decorated using 1000 LED lights and a mixture of materials such as flowers and floristry picks, glitter, balloons, paper decorations, small props, large and small decorations, as well as an array of fun and funky accessories to achieve a genuinely captivating and one-of-a-kind result.
Find out more about Fizzco on their website.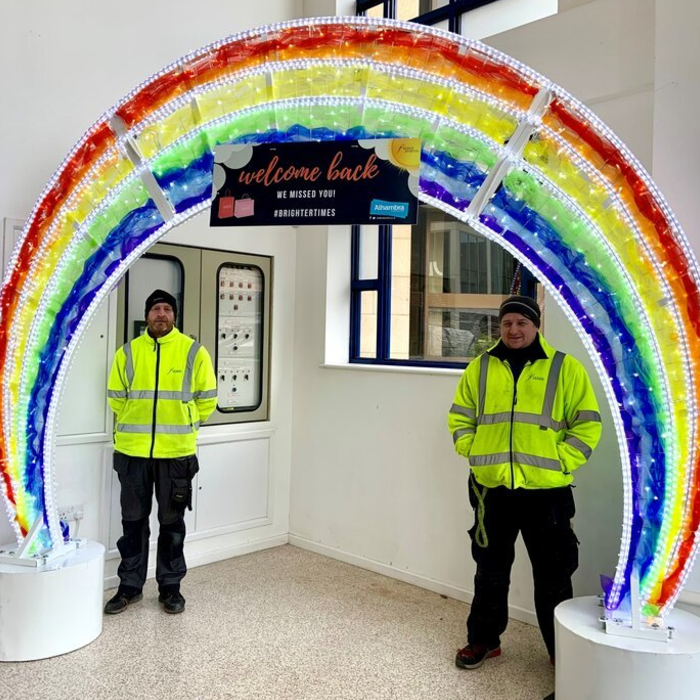 < Back