Nigel Huddleston MP, the Minister for Tourism, visited Lincoln as part of his UK wide road trip to support the reopening of the sector.
The Destination Management Organisation Visit Lincoln arranged his trip and invited tourism businesses to share their first-hand experiences about the impact of coronavirus.
Tourism Minister, Nigel Huddleston, said:
"I have very fond memories of Lincoln and it was great to make new ones during my latest visit to my wonderful home city. It was a privilege to visit Lincoln City FC, tour world-class heritage sites including the cathedral and castle, and also meet exceptional business owners who play such an important role in supporting tourism. We want people across the country to get out there and enjoy summer safely and Lincoln and Lincolnshire is an amazing place to do just that."
The Minister was chaperoned by Charlotte Goy, CEO at Visit Lincoln, and was introduced to key business leaders during the visit. He was also joined by Lincoln MP Karl McCartney.
"While we were planning the itinerary, we discovered that the Minister had grown up in Lincolnshire and had attended a school in North Hykeham," said Charlotte, from Visit Lincoln.
"During the trip, it was clear to see that he was already very familiar with the city, and even shared some photos from the last few visits he'd made to Lincoln Castle with his family – which was great to see.
"It was at that moment I realised that we were hosting a Minister who not only represented the sector in national government but who also had a deep-rooted interest in tourism and wanted to play an active role in its recovery.
"Along with our partners, we were exceptionally proud to show the Minister around our beautiful city and demonstrate the way that Visit Lincoln can bring people together to talk about one of the region's most important sectors – tourism.
"As well as our recovery marketing we want to ensure that the right grassroots support is provided by Government to tourism businesses, and this was a unique opportunity for the Minister to hear directly from the businesses that have been hardest hit".
During the visit, the Minister toured Lincoln Castle, Stokes Tea & Coffee and Redhill Butchers – adhering to the new COVID-secure measures each business has put in place.
While at Lincoln Castle, he visited the Magna Carta Vault and saw the 800-year-old documents on display. He then joined the Cathedral's Stone Masons in their Works Department and carved some Lincolnshire Limestone, before ending the day in the new Dean's Garden, part of Lincoln Cathedral's £16m HLF 'Cathedral Connected' project, with tourism businesses and representatives who were invited for a round table discussion.
Local businesses informed the Minister that the financial support that has been offered to tourism businesses, such as the furlough scheme, VAT reduction scheme and business grants, has been a lifesaver. In response, the City of Lincoln Council was praised for its swift reaction to the business grants distribution. Partners were also able to highlight the businesses in Lincolnshire who have slipped through the funding net, promoting more support to bridge the winter months.
Simon Walters, Strategic Director for Communities and Environment at City of Lincoln Council, added:
"It was good to meet the Minister and show him around our Visitor Information Centre ahead of it re-opening this week.
"It was very useful to be able to have a conversation with him about the important role that history and heritage plays in making Lincoln such a significant tourism destination.
"On the eve of our Heritage Action Zone grant funding proposals going to the council's Executive for approval, it was also very positive to hear the Minister's support for Lincoln's heritage offer."
This is not the first time a representative from the Department of Culture, Media and Sport has visited Lincoln, but it was particularly poignant this time as city and county tourism partners look to build on and deliver the sectors recovery plan.
Ruth Carver, Chief Executive of the Greater Lincolnshire Local Enterprise Partnership, said:
"Hospitality, leisure and tourism are an integral and valuable part of our way of life in Greater Lincolnshire, and one of the LEP's priority sectors. So, to welcome Nigel Huddleston, a Lincoln lad, to see at first- hand what a terrific offer we have is a huge boost.
"We do however have to recognise the real challenges facing the sector, not only since March but in the months ahead as businesses start to reopen and begin trading.

"We have been working hard supporting local authorities with grants to the sector, and gathering intelligence from our visitor economy businesses and feeding into Government to influence guidance, policy and financial packages.

"With the support of Visit Lincoln, we are also implementing a restart plan, which helps to ensure that visitors and locals know that our places our open for safe business."

For more information, please visit www.visitlincoln.com.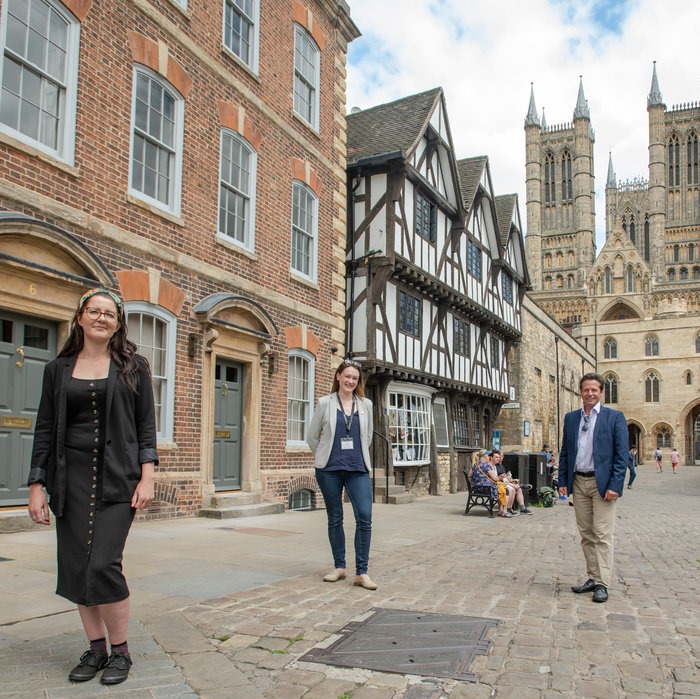 < Back