Ready to take the plunge? In our last blog, we explained how going digital can benefit your business – but how do you get started?
Consider this your digitalisation checklist!
We've broken down the simple ways in which you can begin your digital journey, providing you with actionable steps you can take to reach your goals.  
Figure out your business goals 
What is it that you want to gain out of going digital? Before going any further with your digitalisation plan, it's important to figure out why you're doing it and how it will help your business individually.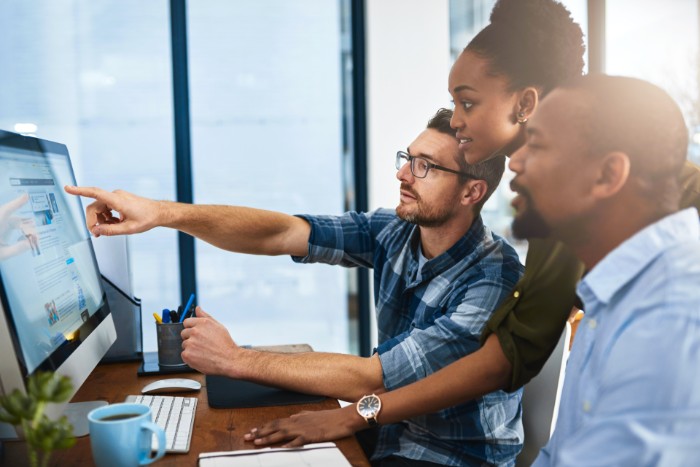 Build a website 
A website is a beneficial tool for any kind of business, regardless of sector. Often a customer's first port of call when exploring their options for a product or service is an online search. They want the reassurance of quality, price, and ease of access and having an online 'portfolio' can help them establish that the product or service is right for them.  
Give e-commerce a go 
If you are in the retail sector, consider selling your products online. Online shopping has taken off hugely in recent years – especially off the back of the Covid-19 pandemic. Online sales are the future, and it's best to jump on the bandwagon as early as possible.  
Is social media worth your time? 
Being present on social media is never a bad idea for any business – although it's important to figure out which platforms will be best suited in fulfilling those individual business goals we mentioned earlier. If you want to be able to easily respond to questions and appear present among your local community, Facebook can be a great means of increasing visibility and sharing important information. If you're a B2B business looking for new opportunities, LinkedIn could be the best platform for you. Maybe you want to relate to your customers and move away from a slightly 'stuffy' image, or even just promote a product you think has the possibility to go viral - Instagram or TikTok could be your place to shine.   
Could paid advertising help you grow? 
Would investment in online advertising help you to reach your goals and desired audiences? Small investments into paid advertising on social media and websites can see a big return in sales and brand visibility.   
Consider email marketing 
Email newsletters can be a great way of nudging your customers to take the next step in the sales funnel. Appearing regularly in their inbox can help your business to stay fresh in the mind of its consumers.  
Go paperless! 
Going digital isn't all for marketing purposes. Consider making your records digital and ditch that filing cabinet with documents older than the business itself! There is always a place for paperwork, but storing all of your important data and records on a secure database can help to reduce risk and make things easier to find.  
How can we help?
We've helped many businesses across Greater Lincolnshire and Rutland begin their digitalisation journeys – just take a look at our most recent video case study with Viking Signs!   
With a whole team of Growth Hub advisers equipped with the latest industry tips and tricks for going digital, we can't wait to help you get started - get in touch!  
< Back