It's hard to believe the impact that social media has had on the world. According to communications consultancy WeAreFlint, in the UK 83% of the adult population now use at least one social media channel, with 79% of them on Facebook. With such a vast audience available, its increasingly important to find ways to tap into users and promote your brand. Here is a selection of tips to help you begin to navigate social media for your business, and how to develop your social media presence!
Planning
There's the well-known saying "a goal without a plan is just a wish", a saying incredibly apt for social media strategy. You may wish that you had significant engagement, great feedback from customers, and excellent response rates, but in order to build this, you need to set a realistic plan before you begin.
First, decide which social media channels you should be targeting. Consider that each channel has slightly different demographics, different ways of operating them, and different types of content that work well on them.
You can find out more about which Social Media Channel may reach your target demographic here: https://www.infusionsoft.com/business-success-blog/marketing/social-media/how-to-choose-social-media-that-fits-your-small-business
You can begin planning posts and content that you want to share on your page and consider designing a schedule for organising when your posts will be published.
 Consistency
When we think about what defines a brand and what lets us know its them, its undoubtedly down to coherent presentation. Your Facebook presence should reflect the actual assets of the brand so that your whole online and offline presence are consistent and make you immediately recognisable to customers regardless of which channel they discover you on. 
 Using the same logo, cropped to fit specific sizes for social media, the same name, and even the same writing style will all add to the unity of your brand, and help to improve your social media presence. Using the same content across social media across all your platforms is also a good idea. Whilst there are specific difficulties with this relating to some channels, twitter's character limit or Instagram requiring a picture or video to be posted with each post, for the most part it should be easy to overcome these to post the content you would like. 
The same can be said of your print materials. It's easy to underestimate the importance of putting your social media handles on your print media but unifying the strategy across your entire campaign is an effective way of driving people towards your content and your company. This can also include any hashtags you're using for a particular campaign.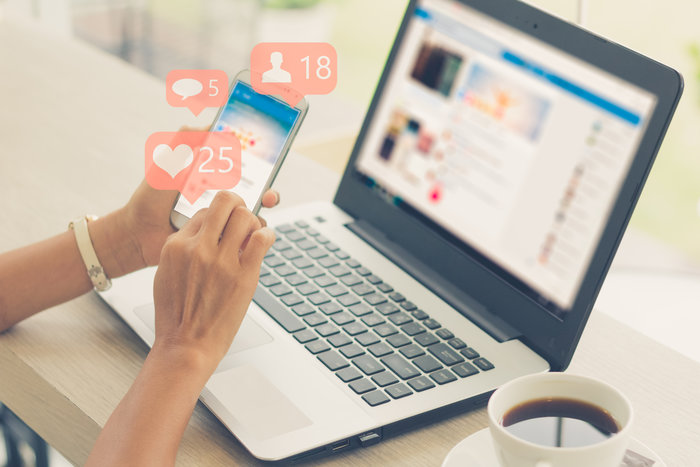 Create engaging content
Engagement is key to social media. To use Facebook as an example, interactions with your posts indicate to Facebook that it is something that people may want to see, and so people are more likely to see it. Facebook weights 'passive engagement' and active engagement' differently, so having someone click on your post is a lot less likely to increase visibility than having someone comment on it.
Creating engaging posts then is the key. So, what makes an engaging post? Something visual. Social media manager Buffer estimates that posts with photos get 39% more interaction than those without and the interaction rate is even higher with a whole photo album. Using good quality photo content can increase engagement for your business, and the number of people who see your content.
That isn't to say that what you write doesn't matter. The message is important as a follow-up to the initial engagement. Crucially though, messages may include your call to action, the link to redirect someone to somewhere you want them to be, such as your website homepage, a specific product page, or a link to sign up to your mailing list. As such, your message needs to be well considered, and the tone needs to be considered for your audience.
Engage with customers
Engagement though, does not only cover a user's engagement with your page, but also you with them. Posting content which encourages users to engage is likely to lead to something that you need to reply to, and it's worth your time doing. Engaging with users is a great way to build up your reputation with them, to answer questions which may aid them in buying your product or using your service. Facebook now offers a metric visible to users saying likely response times. Keeping this low by engaging with users can help to encourage questions and reinforce the idea that you are responsive and helpful. Positive interaction with customers across your platform is likely to increase the feeling of trust for your brand.
 Analytics
Some things work, some things don't. It could be the time of day, the type of content you posted, or the copy you placed with the post – or numerous other reasons. Keeping up to date with how your posts are performing can be very revealing as to what is working and what is not. Social media channels all have tools to show you insights, although this can just as easily be viewed in a social media management suite such as Hootsuite, Buffer, or Social Flow.
What content works is very case specific, but it is important to look at your audience and work out what appeals to them, and how you can reflect it through both your original content, and via what you choose to share on your page. Keeping on top of how your posts are performing means that you can be responsive in the way you approach your account management, scheduling based around when your engagement is highest, and creating content based on the past success or failure of other posts.
Those are just a few tips and tricks to help with increasing your social media presence, and they set a foundation to begin building a coherent social media strategy that can see your business start to grow.   
Back