Back by popular demand for its sixth consecutive year, the Taming the Dragons event took place at the University of Lincoln last week, with three businesses pitching their ideas and plans to a panel of four 'dragons', hoping to snap up a business investment deal. Lincolnshire Investment Network, part of the Business Lincolnshire Growth Hub, teamed up with Streets Chartered Accountants, Fraser Brown Solicitors and NatWest Business to deliver the highly-anticipated business event in front of a live audience.
The showcase evening began with Russell Copley from Lincolnshire Investment Network, introducing the four Lincolnshire 'dragons' to the room – Martin Avison; founder of Angel Groups Franchising Limited, Simon Jones; Managing Director of SJ Associates (Hemingford) Ltd, David Williams; Director of 3w Growth Ltd and Neil Everatt; CEO of Selenity. It was then time for the businesses to stand before the dragons.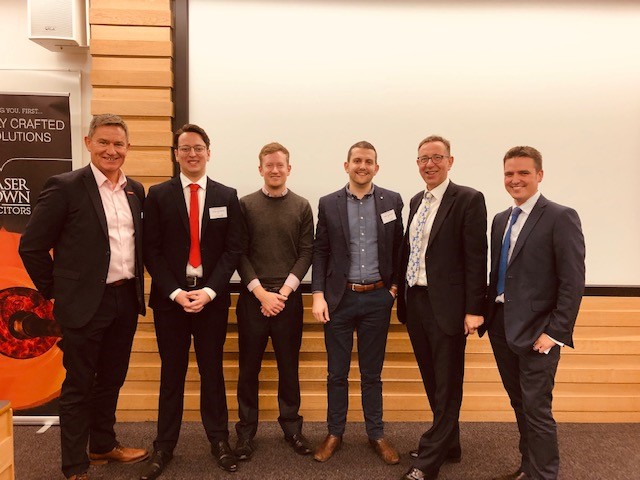 Pitching first was Joe Cusdin with his business Iventis Ltd, based at the University of Lincoln's Sparkhouse. Iventis specialise in the development of innovating information management and operational planning software solutions for the organisers of major events (i.e. the Olympic Games) and other large-scale operations.
The second pitch came from Daniel Howitt, whose business Recap Technologies Ltd focuses on their development of a privacy-focused accountancy application for tracking, analysing and reporting on cryptocurrency finances.
The closing pitch came from Karl Sandford; Director of Your Global Café – a virtual social platform connecting international students with their peers.
The audience were then treated to an enlightening presentation from last year's winner, Leo Scott-Smith, whose business, Tended, have since secured major investment for the development of their safety application.
After a period of deliberation, representatives from Streets, Fraser Brown and NatWest declared Joe from Iventis Ltd to have delivered the best pitch and presented him with a cash prize.
Neil Everatt, returning Dragon, said "What an honour to be invited to this event!  Once again, Taming the Dragons was hugely successful, showcasing some brilliant, innovative ideas from Lincolnshire."
David Williams, a new addition to the Dragons commented "wow – some very high quality presentations at Taming the Dragons 6 – certainly kept us Dragons in check!"
Pat Doody of Natwest, who sponsored the event, said "Last night was a great example of the quality of innovative thinking coming from the County in more ambitious times. Certainly some of the pitches would have stood the TV version test and it was also good to see the level of interaction afterwards at the networking event when the Dragons, and others in the room, were able to give the pitchers some direct feedback and ideas. This is the 6th such event and every year the quality threshold rises with the event being one NatWest is extremely pleased to support."
This year's winner, Joe Cusdin, said "it was a great experience and led to some very interesting discussions afterwards on a number of levels. It was also a big confidence boost to win and see so much interest in my business – I'm feeling very excited about the opportunity for us and where we can take it".
Russell Copley, leading the event, said "I am really pleased with the quality of pitches and very grateful to the panel for their questioning, insight and support. I very much look forward to hearing how our pitchers develop in the next few months!"
The Taming the Dragons event is held on an annual basis but if you are interested in other events for small businesses held throughout the year please contact info@lincolnshireinvestment.net.
Back